got an email from our insane premier.
Dear Andrew, I know the past few weeks have been challenging for many South Australians. From day one we have been clear that we do not want any restrictions in place for one day longer than they need to be. So I'm pleased to confirm that on Tuesday, December 1, restrictions in South Australia will be easing. These changes will only be in place for 2 weeks as we chart our course towards Christmas. The South Australian border restrictions with Victoria will be lifted completely from Tuesday, 1 December. I know this will be a huge relief to many families, businesses and communities as we head into the holiday season. But I continue to stress this point: we can and we must continue to act on the unequivocal health advice to keep SA safe and strong. We are lifting restrictions gradually and carefully in South Australia to stay ahead of this virus. These changes mean, from December 1, hospitality venues using the SA Government QR Code check-in system can allow: 1 person per 4 sqm indoors with seated consumption, and 1 person per 2 sqm outdoors with stand-up consumption. Working from home where possible remains encouraged during this two week period, as well as wearing masks in public places where it's difficult to maintain a 1.5 metre distance. Full details about these changes will be available at www.sa.gov.au in the coming days. I am so proud that we have worked together to beat this silent enemy, and to get through this united.

STEVEN MARSHALL
and it contained this gem: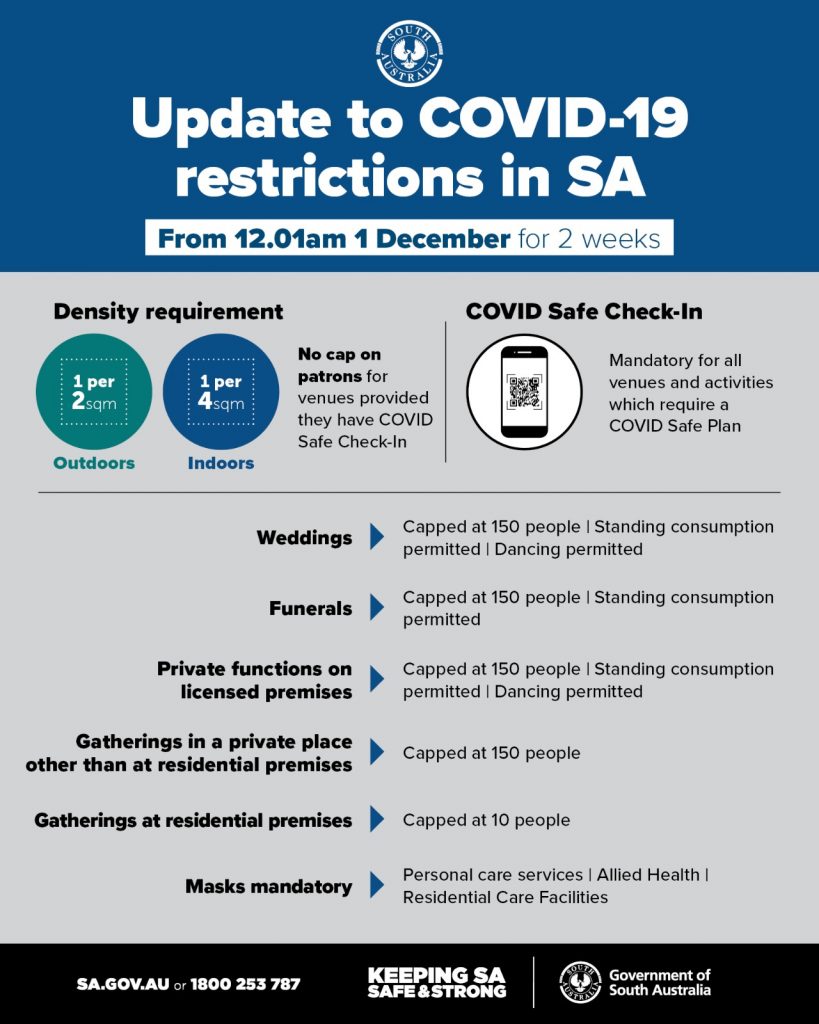 Not a word about what we're supposed to be frightened of. Not a word.
What it is, of course is covid – but what frightening bit of it? For 90% of us it is trivial.
For the remainder (which includes me) it can be dangerous unto death just as so many current virus's – yep, even the common cold – can be.
So what's so special about this? Not a word.
And not a word of justification for any of those 'measures' to justify proportions, sizes, no definition of the metric, nothing. And all clearly ridiculous as you look a them.
It is the work of a child. A primary school child.
Playing with people's livelihood and in fact with their very lives!
I've been directing people all the time to Tony Heller because I've seen some very convincing Youtube videos of his.
But now I find if you go googling for 'Tony Heller' which I of course don't usually do because I'm there already – you don't get the stuff I'm looking at you get rabid hysterical hate filled stuff shrieking at you and claiming he's a liar and all sorts of things.
So ignore Tony.
I'll try to organise myself and dig out all the stuff I've found in the past on my way here during this charade. Meanwhile I'd say go straight to John Ioannidis.
And go to the WHO video pleading with us – with our governments -not to use lockdowns.
And go to that Great Barrington declaration and read it.
And get authoritative charts and figures and look over them yourself.
I think we should be getting those 'authoritative charts and figures' and printing them out and posting them up for everyone to see because the madness is just getting worse. They are institutionalising it now. They are planning that their madness will be with us, their police state control, their manipulation of the truth, their stoking of fears and distress – for years to come!
Meanwhile here's some conscientious good factual reporting with some graphs and charts that adequately, more than adequately, make the situation clear.
In fact it is so thorough you get dismayed at the thought of wading all through it so I'd say don't. Jump in and out of it. Get to know it. Over a few days perhaps. There's a lot of meat in it.